Yusuf Zango Discloses That The Opposition Party Lost Election Because They Failed To Come Together.
As Nigerians continue to debate the controversy surrounding the outcome of the just-concluded presidential election conducted by the Professor Mahmud Yakubu-led Independent National Electoral Commission (INEC) across the 774 local government areas in the country, the Daily Trust news editor, Yusuf Zango has come out to assert that the opposition party lost election because they failed to come together, lamenting that it was their fault and not anybody else's.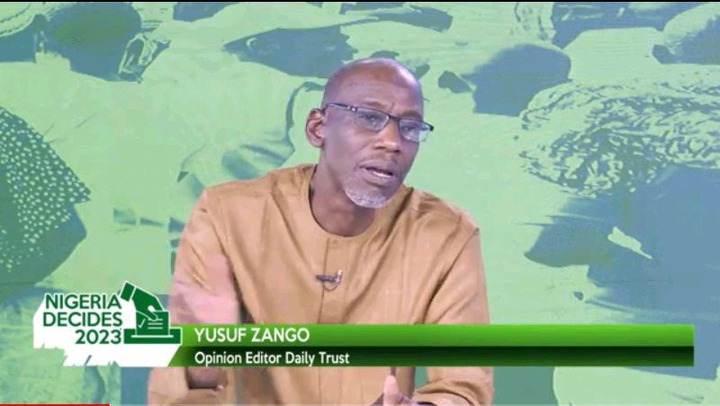 Source: Daily Trust Tv
While speaking during a live interview on the Daily Trust Tv few minutes ago, Yusuf Zango said that Tinubu garnered over 8 million votes while Peter Obi of the Labour Party (LP) and Atiku Abubakar of the People's Democratic Party (PDP) obtained over 13 million votes, lamenting that they could have won the election by running together. He also cited the example of Buhari who formed a coalition with other parties in 2015 to secure his victory.
Quoting a statement made by Yusuf Zango, he said "when you look at the results of the election, the All Progressive Congress (APC) presidential candidate got more than 8M votes, the two others (PDP and LP) got around 13M, so I think it is their fault because if they had combined, they would have defeated APC."
However, Atiku Abubakar has previously disclosed that Peter Obi was in a hurry to leave the People's Democratic Party (PDP), and he had it in mind to choose him as his running mate.
In addition, Obi was keen on running for the Presidency, which led him to leave PDP for Labour Party. An offer was also made to Kwankwaso of the New Nigeria People's Party for a possible coalition, but Kwankwaso declined to deputize Peter Obi, and they eventually contested the election separately.
You might be interested to watch the video below:
What are your thoughts about Yusuf Zango's statement? According to Yusuf Zango, do you agree that it is Obi and Atiku's fault that they lost the just concluded presidential election? Don't hesitate to share and pen down your opinions in the comment section below.
Victormiles2005 (
)